Meet Our Fitness Coaches
UNLOCK YOUR FITNESS POTENTIAL WITH THE HELP OF OUR WORLD CLASS PERSONAL TRAINERS AT STEEL FITNESS RIVERPORT!
It isn't always easy to reach the fitness goals you set for yourself. That's where personal training from Steel Fitness Riverport comes in. Our fitness trainers have the knowledge, and they stay up to date on the latest information to help you come up with a personalized solution to help you reach your goals faster and get lasting results. Ask us how our personal trainers can help you get started today!
MacKenzie
Education:
Bachelors of Science in Exercise Science from Indiana University of Pennsylvania
Training Philosophy:
My philosophy is "you get what you put into it" in other words if you are willing to put forth the effort to work hard for what you want and keep an open mind to trying new exercises, I will do whatever it takes so that together we can achieve your desired goals. Using a variety of different training styles that best fit your needs, we can start the journey to success together!
Favorite Fitness Activity:
Running outside, where the scenery keeps me entertained!
I'm motivated by:
The positive feedback clients give when they see their success unfolding right in front of them. Also I have played sports all throughout my elementary to high school years, so just the fun of sports motivates me.
Fun Fact:
I have a strong obsession for Nike Sneakers.
---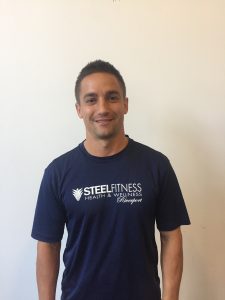 Aaron
Education:
Health and Physical Education Degree from East Stroudsburg University
Training Philosophy:
Muscle confusion is imperative. If you want to see change you have to change what your body and muscles expect. The definition of insanity is doing the same thing over and over and expecting different results. Don't have gym insanity!
Favorite Fitness Activity:
Strength training with bands and interval based training.
I'm motivated by:
Knowing that you can be happy about fitness results, but not satisfied. Getting to the gym is usually the toughest part of your workout to overcome. Staying hungry for results and keeping it fun are essential elements for continued success.
Fun Fact:
I love to golf!
---
Michael
Education:
Bachelor's Degree Physical Activity
Training Philosophy:
"To give anything less than your best is to sacrifice the gift." If you want to truly get into shape and reach your goals, it will require the right mindset.  I can help push you to achieve your goals and get over any challenges in the process.
I'm motivated by:
Pushing everyone that I train to become the best that they can be and exceeding their goals.  When someone tells me that they want to be in better shape for an upcoming event or just for personal reasons we get right to work to make sure that they can succeed.
Fun Fact:
I love to run
---
Oliver
Education:
Born and raised in Bethlehem, PA. I graduated in 2006 from Liberty High school. I've always had a passion for fitness and was actively involved in sports throughout my entire life, including football, basketball and track. I received by certification for personal training through Internal Sports Sciences Association (ISSA).
Training Philosophy:
My philosophy focuses on continual lifelong learning as I work towards improving the well-being of my clients by empowering them the knowledge, support, skills, guidance and resources to assist and inspire them on their journey to a healthier life. Fitness is here to be enjoyed. Fitness provides us with the ability to enjoy a healthy active lifestyle. The best part about it is that you get to choose your own fitness journey.
Favorite Fitness Activity:
I enjoy working out outside so I can incorporate nature into my exercise routines.
I'm motivated by:
The positive changes I see within my clients. When I see the excitement and satisfaction as they reach their desired goals, I feel that I accomplished my goal of providing a happy and healthy lifestyle to them, all while having fun.
Fun fact:
I like building sports cars.
---
Brian
Education:
Personal Trainer Certification, World Instructor Training Schools
Training Philosophy:
Training should be about pushing past your perceived limits so you can achieve what you never thought possible. You do this by challenging yourself a little more each day so you continuously improve. But it's also about building a lifetime of healthy habits so you can stay active and mobile throughout your life. I'm inspired by people willing to take the steps toward controlling their destiny, making positive changes that little, by little, help them achieve and exceed their goals. With me as your coach and guide, I'll teach you proper form, technique and nutrition to give you a lifetime of wellness.
Favorite Fitness Activity:
CrossFit, TRX, any type of strength training with dumbbells, barbells, and running. Deadlifts and pullups are the best!
I'm motivated by:
The knowledge that if you listen and pay attention to your body, it will tell you what it needs. As a society we need to move a lot more, every day. It all starts with you! You are the only person who can stop you from achieving what you want. I am here to help you get there.
Fun Fact:
I actually enjoy burpees!
---
Cisco
Education:
I.S.S.A Certified Personal Trainer
Training Philosophy:
I believe fitness is mostly mental ! In order to achieve any goals in life you must commit mentally first and that builds determination which leads to motivation in turn leads to you making the effort to take those steps to making a change! I cannot not do the work for you but I will show you the most efficient way to see results!!
Favorite Fitness Activity:
Resistance training,HIIT (High Intensity Interval ) Training, Bike riding.
I'm motivated by:
I have been through the struggle of being unhealthy and out of shape . I took initiative to make that change and never looked back .So when I can help someone change themselves mentally and physically and see the transformation that is all the motivation I need.
Fun Fact:
I hate running !!! But I love making my clients run! LOL
---
Kyle
Education:
Master's Degree Sport Management
Training Philosophy:
"Whether you think you can or can't, you're right" Getting yourself into shape and reaching your goals is about your mindset. I can motivate and inspire you to get to your goals, but you have to put in the effort. If you put in 50% effort you'll only see 50% of the result.
I'm motivated by:
Watching the people I train reach their goals and by everyone that is motivated. I love hearing about why people want to get in shape. It doesn't matter if you're trying to get in better health or if you have a wedding in the near future. I want you to best at your best. That's why I train!
Fun Fact:
I have a twin brother
---
Ty
Education
World Instructional training School
AAAI Master Training certification
I'm Motivated by:
Changing people's lives! For 10 years, I sat behind a desk for 8 hours/day and I gained a lot of weight. I was 245 pounds, out of shape, and out of hope. I was always tired and couldn't keep up with my kids. One day, I made the decision and commitment to live a better life and within 7 months of following a regimented diet and exercise plan I had lost 75 pounds!  I feel like if I did it for myself, I can help anyone do it! I achieved my goals and SO CAN YOU!
Fun Fact:
I have 8 kids and I am a singer!